Does your company have a focus on the health and wellbeing of staff?
An estimated 137.3 million working days were lost to sickness absence or injury in the UK in 2016 (ONS.gov.uk). Musculoskeletal problems such as back pain, neck and upper limb problems and 'other' conditions such as stress, anxiety, depression were the second and third most common reason for sickness absence and together made up 46.6 million of total days lost.
The office environment, for example, can take a huge toll on the human body, with hours of sitting behind a computer or in a meeting creating muscular and postural imbalances.
Investing in your people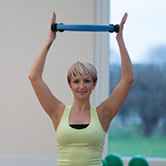 I offer bespoke Pilates in the workplace for businesses, offices, schools and colleges. Sessions are designed to reset the body and reduce tension from the stresses of the day.
Pilates in the workplace can be adapted to your companies needs and is available before, during or after the working day.
Corporate packages
There are flexible options and I'd be happy to discuss a package that is suitable for your business needs. Sessions could for example be corporately funded, subsidised or participant funded.
Whether it's a regular weekly small group session, individual tuition as part of an occupational health referral scheme or even a one off session as part of a staff wellbeing day or team building/ employee event.
Some of the benefits of Pilates for your company
Employees feel valued and appreciated, and are therefore more motivated and productive
Resets the body from the working day
Helps employees cope better with stress and pressure
Pilates is for everybody, so can be easily incorporated into a team building or staff event without excluding anyone from participation
Employees will have less sick leave for example due to stress related illness, back issues or recovery from surgery
Some of the benefits for employees
Improved health and wellbeing
Feel relaxed and destressed
Fits conveniently into the working day
No travelling time/ cost
It's been great having the weekly Pilates classes here at Doncaster Council's Civic building. We currently have 4 sessions a week taking place aimed at improving our staffs health and wellbeing plus increase their physical activity levels. We have found delivering our classes during staff lunchtime is a great way for staff to get active during the working day and reduce barriers such as time and childcare being an issue. All our classes are currently full and the initial launch on our staff website resulted in me taking over 100 enquires about the sessions! These sessions have been a great success and our staff are thoroughly enjoying Caroline's friendly and fun classes and long may they continue.
Dean, Community Sport & Physical Activity Development Officer
Doncaster Metropolitan Borough Council
I'm fully insured and I will bring everything needed for the sessions, so all that is required is a small room and I will transform it into a Pilates studio and bring the benefits of Pilates to you and your employees.
I already work with some of Doncaster's major employers to provide corporate Pilates. Please contact me to discuss your requirements.